Do Optimists Live Longer? 5 Health Benefits Of Positive Thinking
Do you know just how much positive thinking can actually help you and your life? Are you aware that positive thinking can actually help your health and could possibly help you live longer?
There are some great benefits to positive thinking, not only can it help boost your self-confidence and self-esteem, but positive thinking has a lot of health benefits too. Keep reading to discover the top 5 health benefits of positive thinking, and how it can help you live longer!
5 Health Benefits Of Positive Thinking
Positive thinking is when you approach challenges and life in general with a positive attitude. If you are a positive thinker, you will know that you may face negative situations in your life, but you will know how to deal with those situations in a positive way.
Life is full of obstacles and challenges, but if you can change your mindset and become more positive, it can really help you with a number of things, including your health.
To convince you, even more, that positive thinking is something that can really benefit you, I am going to discuss 5 health benefits of positive thinking and how it can help you in many different ways.
1. It Could Add Years To Your Life
There has been research that shows that positive thinking can actually have an impact on how long you will live. Positive thinking can help lower stress as well as helping you with things such as self-esteem and your immune system, but it can also add years to your life.
The study that took place involved 660 people and those people with a more positive outlook on their own aging ended up living an average of 7.5 years longer than those who didn't have this outlook.
In the study, these results remained the same throughout, after factors such as gender, age, income, loneliness and health status were controlled.
2. Boosts Immunity
There have been studies done, looking at the connection between positivity and our immune systems. 124 participants took part, and people that showed optimistic thinking also showed a greater immunity system.
Those who had a negative outlook actually showed a negative effect on the response of their immune system. This shows that being more positive could actually help your immune system, which can help you to prevent the common cold.
It also shows that having a negative outlook could also cause you to be more vulnerable to illness.
3. Makes You More Resilient
When you face traumas or negative situations in life, how you deal with them is very important and can have an effect on you.
Studies have shown that positive thinking can actually help you to recover quicker from a trauma or crisis. Positive thinking can help you to be more resilient, which can help you when it comes to facing these difficult situations.
Instead of having a negative attitude in life, try and practice being more positive so that you can handle negative situations quicker and easier too. It can be quite hard to keep positive when you are going through tough times, however, it has been known to help people recover quickly, so it can only benefit you.
4. Fights Stress
Stress is common for a lot of people, but if you can fight stress, it can have great health benefits for you. Stress has been known to actually cause health problems, but apart from that, stress can also make health problems worse and does not provide anything beneficial.
Positive thinking has been known to help manage and reduce our stress levels, which can then help to prevent health problems in the future too. The way that you think can influence the amount of stress you feel, so it's no wonder that positive thinking can actually help you to reduce and fight stress.
5. Prevents High Blood Pressure
Not only can positive thinking help fight stress, but it can also prevent high blood pressure. Positive thinking exercises have actually been proven to help lower blood pressure!
High blood pressure is dangerous for a number of reasons. It is often caused by stress, anxiety, diet, and lifestyle choices such as smoking and drugs.
High blood pressure, infamously, can cause heart disease, so by having lower blood pressure, you can reduce the risk of heart disease and potentially increase your life expectancy.
Positive thinking is a very powerful tool, and if it can help to reduce the chance of heart disease, it's really worth trying to practice it a lot more!
It can be hard to know exactly how to clear negativity from your life, but it's not impossible. If you can try and develop a positive attitude and practice positive thinking, it could help you with all the things I have spoken about.
If you need some extra help, take a look at Joe Vitale's 'Clearing Negativity From Your Life' Ebook today and try to help clear any limiting beliefs you may have.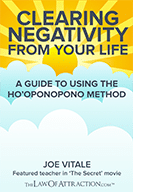 FREE E-BOOK FROM DR. JOE VITALE
Learn How To Cut Yourself Free From The Negative Energy Cord In Your Life
Free Ebook Reveals Little-Known, Powerful "Ancient" Technique For Identifying And Clearing Limiting Beliefs Helping You To Break Through To Your Best Self
(Taking You To A Higher Place Of Consciousness)
Click here to claim your FREE copy of 'Clearing Negativity In Your Life'