18 Most Beautiful Places In The World To Visit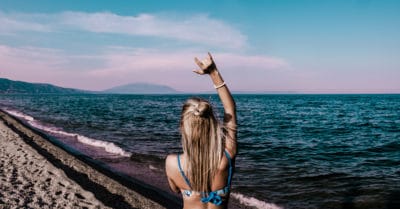 Have you got a list of everywhere you would like to travel? Maybe you would like to add some places to your bucket list? I am going to share with you 18 of the most beautiful places in the world that you can visit.
If you are unsure of where you want to go first, or how you are going to be able to, you can take a look at our article on making your own vision board. You could include these pictures below in your own vision board, and start manifesting your traveling goals today.
1. Santorini, Greece
This incredible island is in the Aegean Sea. The island was shaped when a volcanic eruption took place in the 16th Century BC, forming the rugged shape of the island.
The multicolored cliffs on Santorini overlook the beautiful black and red coast. If you want to experience historic towns along the cliff tops and dazzling beaches, then look no further.
2. Cappadocia, Turkey
Cappadocia is where you can find beautiful fairy chimneys and other interesting rock formations on the land.
Many tourists visit Cappadocia for its unbelievable beauty as well as experiences such as hot air balloon rides, visiting the underground cities, viewing the cave churches, and much more.
3. Bariloche, Argentina
Bariloche is located in the Nahuel Huapi National Park and is always a beautiful sight, no matter what time of the year you visit. From snow-covered mountains to thousand-year-old forests, Bariloche is a sight to see.
Bariloche has also been named the Argentine Capital of Chocolate, due to the production of Argentina's best chocolate taking place there. Enjoy relaxing days or jam-packed days filled with skiing, trekking, and much more.
4. Great Barrier Reef, Australia
A breathtakingly natural sight to see, the Great Barrier Reef is now one of the most popular tourist destinations. The Great Barrier Reef has the worlds largest coral reef and is surrounded by amazing, beautiful beaches.
Whether you want to go scuba diving, snorkelling, glass-bottomed boat viewing or whale watching, there is plenty to do here, and when you visit, you should be able to understand why it's been named one of the seven wonders of the natural world.
5. Venice, Italy
This city on water is spread across 118 islands, with a network of canals and all connected by 409 bridges.
Venice should definitely be on your bucket list, whether you want to visit the amazing restaurants, take a ride on a gondola or take a trip to the palaces and churches, this beautiful city is not one to miss.
6. Arashiyama, Japan
Arashiyama is a great place to visit just for the sights you will see. This beautiful city is filled with shrines and temples as well as the famous Arashiyama Bamboo Grove.
You can visit the Nison-in Buddhist Temple, spend time with some monkeys at Kameyama-Koen Park or rent a boat, row around the Hozu-Gawa area, and much more.
7. Moraine Lake, Canada
This glacier-fed lake is a beautiful shade of turquoise and is a sight you won't believe until you see it for yourself.
Surrounded by incredible mountain peaks and trees, it's a stunning view. You can rent a canoe or take part in one of the trails if you wish, or you can just sit back and enjoy the view.
8. Plitvice Lakes, Croatia
The Plitvice lakes are one of the most popular tourist attractions in Croatia. There are sixteen lakes within the National Park and they are all inter-connected with waterfalls.
The lakes are surrounded by beautiful forests and incredible pathways that follow the edges and across the lakes.
9. Tahiti, French Polynesia
The islands of Tahiti are formed from volcanic activity. You'll find a blend of both Polynesian and French cultures, whilst experiencing a tropical climate.
Whether you prefer to relax or plan activities, you'll find it all here, from paragliding or snorkeling to getting close to the local wildlife.
10. Keukenhof Park, Holland: The Netherlands
The Keukenhof Park is known as the Garden Of Europe and features one of the world's largest flower gardens, with 7 million flower bulbs planted annually.
This beautiful sight is breathtaking and includes water gardens, ponds, and fountains as well as its own Historical Garden.
11. Blue Lagoon, Iceland
The Blue Lagoon was named National Geographic's "25 Wonders of the World" back in 2012, and it's easy to see why.
The incredible lagoon is formed by mineral-rich hot water from beneath the earth, where you can get spa treatments in the lava landscape, this experience is definitely one for your bucket list.
12. Whitehaven Beach, Australia
Whitehaven Beach is an incredible beach, that stretches over 7km. You can get to the beach by boat, helicopter, seaplane, or from Hamilton Island.
Whether you want to swim, enjoy a BBQ at the Beachside Burger Bar, or just take in the view, this stunning beach is an amazing sight.
13. Bora Bora, French Polynesia
Surrounded by a lagoon and barrier reef, Bora Bora has become an international tourist destination. You can spend time in the luxury over-water bungalow resorts and enjoy fresh produce right from the sea.
You can also enjoy going snorkeling or scuba diving around the lagoon of Bora Bora.
14. Tianzi Mountains, China
The Tianzi Mountains provide stunning views and the highest peak is 4130ft above sea level. Surrounded by waterfalls, stone forests, and caves, the views are incredible.
There are also five scenic zones, with over 80 platforms for you to go on and take in the beautiful scenery.
15. Yosemite Valley, USA
The Yosemite Valley is about 7.5 miles long and 3000-3500 feet deep. The valley is surrounded by crests and waterfalls, as well as forests and large open meadows.
There are also hiking trails that are in the valley, which can give you more views of the stunning scenery.
16. Hitachi Seaside Park, Japan
The Hitachi Seaside Park boasts an incredible environment of forests, sand dunes, springs, and grasslands.
You can view a huge variety of colorful flowers as well as other attractions such as an amusement park, cycling tracks, and many restaurants.
17. Geiranger Fjord, Norway
Geirangerfjord is an incredible landscape, with snow-covered mountains and incredible waterfalls.
If you take a sightseeing trip to the Geirangerfjord, you can experience this all yourself, or even take the skywalk where you can experience a panoramic view of the fairytale sight.
18. Rio De Janeiro, Brazil
Rio de Janeiro offers a breathtaking landscape, annual carnival, stunning beaches, as well as stunning views from Corcovado Mountain.
Whether you would like to hit the city's malls and markets or take in the view at the beach, Rio de Janeiro is a city not to miss.
Which of these locations do you want to visit the most? Comment below now!